The California Missions On-Line Project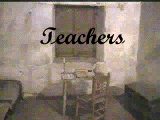 Student created HyperStudio Stacks - this was created by my 4th grade students during the 1997/1998 school year. The information and graphics were developed by the students in class.
Mission Teacher Resource Page - This page was designed for you to provide activities, worksheets, report help and even a simple report. Since the attached are not suited for web pages you will need to download these on your desktop. They are self extracting archives which, when expanded will proivde you with folders of ClarisWorks 4.0 files.
California History for Parents and Teachers - includes a Mission Construction Guide
Mr. G.'s Cool Educational Sites
---
The Student's Page | The Mission Page | The Assessment Page | Additional Mission Sites | Main Page
---
This project written by Rob Garretson in partial fulfilment of the Master's of Arts Degree from Cal Poly Pomona
Please send questions and/or comments to Mr. Garretson
This page last updated on August 3, 1998