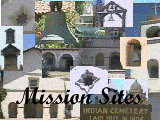 This page is a collection of California Mission Sites created by others and placed on the Internet. I have listed them here to help you in your research.
---
Father Junipero Serra links
Junipero Serra - from CSU Monterey Bay
Father Serra - from the folks at PBS
Padre Junipero Serra - Biographical description
Junípero Serra, The Founder of California - Very brief description, in the Museum of the City of San Francisco Website
Junipero Serra and the California Missions
---
Mission links from other folks
California Mission Internet Trail - This site is being constructed by students up and down the state of California to serve as a central resource for information on the California Missions. The effort is being coordinated by Pioneer School and Oak Hill School in Escondido, California as part of the State Building the Future Project.
The Spanish Missions of California - This site was created to compete for a ThinkQuest Scholarship (we didn't win) and to show that the Internet is a viable learning tool in the classroom. We hope that our site will excite all those fourth and fifth graders out there in California who study the Missions as part of the California State Curriculum, and we hope that teachers will find it useful as well. Of course, this site is for anyone and everyone, not just California's fourth graders.
California Missions Interactive Home Page - two bicyclists traveled the Mission Trail on bicycle, visiting 12 Missions. This web page is the account of their journey. An interesting project.
California Missions - A brief history of each mission is presented here. Later updates to this web site will include addition information about California's rich history.
Index to California Missions Information - The information contained in these web pages have been borrowed from brochures or donated by students doing reports. It is made available for those who wish to learn more of this aspect of California history and culture.
California Missions - History and Facts - Joe Nightingale School's 4th grade California Mission home page.
Missions Menu Page - This project began seven years ago as a classroom demonstration for IBM using LINKWAY.
California Missions - This page provides brief descriptions of six of the twenty-one California missions.
California History: Spanish Period - Informational site about the history of the Spanish in California.
California Mission Sketches by Henry Miller, 1856 - a journal of Mr. Miller's travels to the missions in 1856.
Fourth Grade California History Review - This California Historical Society site has material to support the Oh California text. In also links to pictures and informaton about each California mission.
California Mission Resource Page - This site contains student generated information about the history of the missions as well as information about each mission. It also contains links to other mission pages.
General Information - A list of all of the California missions and some brief facts.
Annotated Links to California Missions Web Sites - assembled by the California Mission Studies Association.
California Mission Studies Association - nonprofit group devoted to the study and preservation of the California missions.
Junipero Serra and the California Missions
---
The Mission Page | The Assessment Page |Main Page
---
This project written by Rob Garretson in partial fulfilment of the Master's of Arts Degree from Cal Poly Pomona
Please send questions and/or comments to Mr. Garretson
This page last updated on February 28, 2015