Ice Bucket Challenge
by: Ana

Have you ever dumped, or thought about dumping a bucket of ice cold water on yourself? Well many people have, and they didn't just do it to be silly or because they were bored. Believe it or not they did it for a good cause. Most people refer to this as the "ice bucket challenge". This challenge was also popular a few years ago and now it has come back. This year the challenge has raised millions for ALS association. Videos of this have been posted like crazy all over the internet. And on September 5, 2014 during 6th period our very own RCMS staff took part in this challenge.
This all began when a former Boston College baseball captain was diagnosed with Amyotrophic Lateral Sclerosis (ALS) better known as Lou Gehrig's Disease. He began posting about the challenge on social media. And people became fascinated with the idea. Since June 1st to this day there have been millions of videos posted on Facebook, Twitter, Instagram, and other social networking websites. However it's not just about the videos, they have raised over 42 million dollars. Everyone from children to celebrities to the RCMS staff have taken part in this challenge.
The way this challenge works is you get nominated by someone else and you usually have 24 hours to complete the challenge. You can either pass and donate 100 dollars or do it and donate 10 dollars. If decide to do it you prepare a bucket of ice cold water and videotape yourself dumping it on your head. Once you dump it you nominate other people to take on the challenge. And it just keeps going like a chain. However, you don't always get nominated and can just do it for the cause.
Friday September 5, 2014 was the day that the RCMS staff got drenched in ice cold water. The goal for that day was to get 100 percent of the people who volunteered get a bucket of cold water poured on them. The twist was that certain students got to pour it on the teacher of their choice. They randomly chose these students from a raffle. Students could get put in the raffle if they donated at least two dollars, and for every two dollars you donated you got a raffle ticket. The three students who donated the most would get to dump a bucket on Mr. La Vallee. If the school together raised less than 100 dollars then one staff member would get drenched. If we raise 1000 or more dollars then all 26 teachers will take on the challenge
.

Together RCMS was able to raise 1,200 dollars!!! So here are some pictures of all 26 teachers that volunteered taking a part in the ALS ice bucket challenge!!!! Or in other words dumping a bucket of water on themselves ;)
Paticipating Staff:
Mr. Preciado
Mr. Baltirra
Ms. Janssen
Mrs. Gorman
Mrs. Hill
Mr. Zwerner
Mr. Arias
Ms. Gutierrez
Mrs. Cruz



Mr. Vince




Mrs. Allas




Mrs. Rodgers




Mrs. O'Regan




Mrs. Ober




Mrs. Warbritton




Mrs. Rojer




Mr. Martin




Mr. Maynor




Ms. Lomeli




Dr. Avila




Mr. Schumacher




Mr. English




Mr. Croulet




Ms. Schwartz




Mrs. Hardy




Mrs. Neu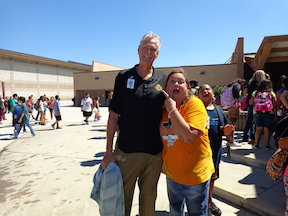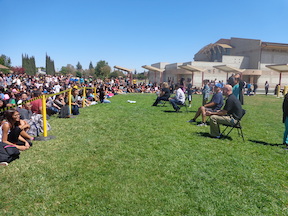 Go back to lion times