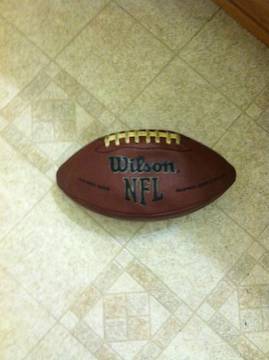 The History of Football
By Luis
Football is one of the gre
atest sports ever to be created! Whenever you are at lunch, you will see tons of students playing football in the fields. Even though I never played with an actual team, I play with my best friends during lunch and at the park after school. We always have a great time and even if we lose. If you ever want to join a team, the school is having an intramural football league. There are tons of positions for football. Playing football is all about teamwork and cooperation. It is a great way to get rid of stress. It is also a great way to exercise and to hang out with your friends.
The first football game ever played was in New Brunswick, New Jersey, November 6, 1869. Walter Camp is the man who helped football become the sport it is today. He is known as "Father of American Football". The American Professional Football Association, or (APFA), was the first football league. It started on August 20, 1920. Later, the AFL and the NFL joined together, but they kept the NFL name. The first college football game was played in 1950. The main player of offense is usually the quarterback. The quarterback is the player that starts the play. For defense, there isn't really a main player.
Many people think that football is just a physical sport that guys play. Let me tell you why that is wrong. Football requires lots of mental thinking and strategy. Remember that is not always about one player. It is about having a really good time and teamwork. The receivers and running backs have to remember the routes for the play. The next time you see people playing football during lunch, why don't you try it.
Back to Lion Times