Friends at RCMS
By: Brielle
At RCMS there is constant friendship. i look around and find myself surrounded by friendship. I believe that people should always have true friends. There are many types of friends. Everyone feels the need to have friends. Parents always send their kid off to school on the first day and say,"Make some new friends." Why? have fun figuring it out.
At Rancho Cucamonga Middle School there is constant friendship. In middle school there is more of a reputation that comes with what friends you have. Some people decide between true friends or their reputation. What I have noticed is that quite a few pick reputation. I believe people should always pick true friends. I would rather be happy with a real friend than unhappy with a friend that boosts my reputation. What would you rather be?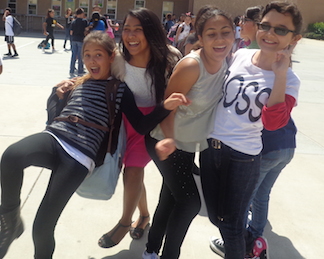 There is many different types of friends. There are friends for a reason, friends for a season, and friends for a lifetime. Sometimes finding friends for a lifetime is hard but they will be there for a lifetime ( cliché I know).What type are you? What type of friends do you have?
I believe everyone wants friends because friends give love and support. People are born with the want for love and care, but not always given that.I also believe people want friends because it always is nice to have someone to confide in. I also think friends provide almost extra family.
Want to leave? Fine then.