SHAD ABUJUDEH

THIS IS THE YEAR TO OVERACHIEVE


HEY RCMS STUDENTS! Do you have carry-over demerits from the past years? Did you get on the lop list last year? Have you already started getting demerits this year? Do you almost have nine F's? Well now is the time to get it removed, also to pick your grades up to avoid reaching the the limit of F's you can earn. We are going to have many social events this year, and if you are on the LOP list or have gained the maximum amount of F's on your report card you will not be able to participate in them.

Getting too many demerits is not a thing you should be doing this year. Especially if you're an eighth grader, you will miss out on many social events happening this year if you get on the LOP list. If you happen to be on the loss of privileges list, now is the time to get off. Go to the front office and ask for a LOP contract. You will have to go twenty days without getting in trouble and completing all work assigned to you. Make sure to show your teacher the contract, or he/she will probably not sign it which will result in doing the contract over again.

Reaching nine F's is something you should never reach. If you are already close to reaching it and you're an eighth grader this is the year to pick up your game and succeed in your learning process, because if you don't you will not be able to be in the promotion ceremony with all your other friends. I advise you as a seventh or sixth grader to do your best so you wont be in a hole in your next year here. For sixth graders, do good this year on your grades so next year you can have an elective and do something fun like art, computers, band, or maybe all of them if you get the wheel instead of getting another math or language arts class. THIS IS YOUR YEAR TO OVERACHIEVE NOT UNDERACHIEVE.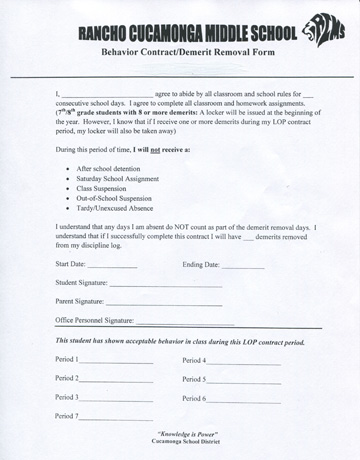 GET A CONTRACT NOW IF YOU ARE ON THE LOP LIST!