Professional Sports News
By: Jacob
Hey sports fans! Well baseball season is coming to a end, and I for one am sad to say that the Angels did not win the wild card position... NEITHER DID THE DODGERS!! So lets move on...
In basketball, the Lakers played their exhibition opener on October 6th against the Golden State Warriors in Fresno. On October 10th they played their second exhibition game against the Portland Trailblazers right here in Ontario/Rancho Cucamonga, at the Citizen's Business Bank Arena. I was able to attend his game, so let me tell you how it went. First off, they announced that Kobe Bryant, Dwight Howard, and Jordan Hill would not be playing that night. I was very disappointed, but I was still excited to be there and got to see Kobe Bryant and Dwight Howard when they came in at the end of the first quarter. At the end of the first quarter the Lakers were behind but with 4:43 left in the second quarter and the efforts of Steve Nash and Metta World Peace, they were tied at thirty-four. The Lakers were finally ahead, then at half the score was tied again at forty-four. Two minutes into the fourth quarter the Lakers were down by 11 points. At the end of the game, the score was; Lakers seventy-five, Trailblazers ninety-three. Even though the Lakers lost it was still a very exciting game! ALSO, the Lakers can re-sign point guard Derek Fisher. Now, some people might be wondering, "How can they re-sign him?" Well... that's because; One-he's a free agent which means he can sign with any team/any time and Two-his contract expired on June 30th with the Houston Rockets.
For those who aren't baseball or basketball fans, there's always football.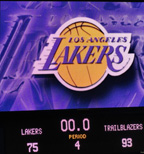 Two mintues into the 4th Beginning of the 3rd
End of the game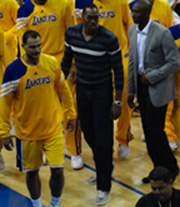 Kobe Bryant and Dwight Howard Steve Nash Tied in the 2nd quarter
Return to Lion Times