Los Angeles Lakers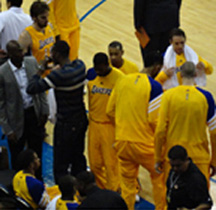 By Rafael
H
ello Lions!! Sports outside school this year will be really fun and exciting. In professional basketball, the Los angeles Lakers have a really talented basketball team. With Kobe Bryant, Pau Gasol, and their two new players, Dwight Howard and Steve Nash, they have a good chance of winning the Finals this season.
In 2010, the Lakers won their last championship against the Boston Celtics. It was the Lakers 16th championship in total. A year before they beat the Boston Celtics they also beat the Orlando Magic in the fourth game of the Finals in 2009. It was their first championship in seven years. Kobe finished that game with 30 points, five assists, and four blocks. Kobe was drafted in 1999 and won his first championship against the Indiana Pacers. Now, the Lakers traded Andrew Bynum for Orlando Magic's Dwight Howard and the Phoenix Sun's Steve Nash. They are both very good basketball players. Steve Nash plays point guard and Dwight Howard plays center. Now, with those two players combined with the other star players, Pau Gasol and Kobe Bryant, the Lakers have put a very, very good team together.
Right now the Lakers are third in the Western Conference, first in the Pacific Division, and sixth in the NBA. Their point guard's are Steve Nash, Steve Blake, and Chris Duhon. Their shooting guard's are Kobe Bryant, and Jodie Meeks. Their small forward's are Metta World Peace, and Devin Ebanks. Their power forward's are Pau Gasol, Antawn Jamison, and Earl Clark. Their center's are Dwight Howard and Jordan Hill. Their coach is Mike Brown. I personally think that the Lakers have a very good chance of winning a championship, and Kobe Bryant really wants his sixth championship ring to tie Michael Jordan. Thank's for listening to my article and GO LAKERS!!!!!!!!
Return to Lion Times