Hey 6th, 7th, and 8th graders. Do you know about Mr. Hall? He is a teacher here at RCMS who teaches Algebra 1 and Science. Mr. Hall is a pretty funny guy and it is great to be taught by him. His teaching methods are usually using comedy to make learning fun. I think he is the kind of teacher who gets learning a subject into your head, and makes jokes about the subject to make it a really fun subject to learn. Some people say that his class is their favorite class to go to during school. Some 6th and 7th graders might not know him but they will if they get his class in 8th grade. Some people would say that he is their favorite teacher and they love to go to his class whether it is 1st and 2nd period, 4th period, or 5th and 6th period. I also asked 8th graders what is their favorite thing about him.
Alex said: " He has really good humor and makes the room light up."
Jacob said: " He is my 1st favorite teacher out of all my teachers."
Michelle said: " Mr. Hall is not as strict as some teachers here at RCMS."
Amanda said: " Mr. Hall is very good at teaching his subjects."
Adrianna said: " He knows how to explain the subject very well to make it easy."
Alyssa said: " One of my favorite teachers at this school."
I interviewed Mr. Hall for my newspaper and this is what I asked him.
Me: When did you start teaching at RCMS
?
Mr. Hall: The 2004-2005 school year.
Me: Why did you choose to become a teacher
?
Mr. Hall: I wanted to make a difference in the lives of young people
.
Me: What are your favorite things to do when your not teaching?
Mr. Hall: I like to watch anime, discuss politics, and religion.

Me: What do you like most about RCMS
?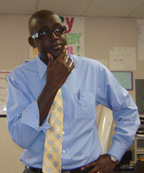 Mr. Hall: Kids have a lot of personality.
Me: What is your least favorite thing about RCMS
?
Mr. Hall: A lot of our students come from tough backgrounds.
Me: Do you have a period off, and if you do what do you do during your time off?
Mr. Hall: 3rd period, usually I try to enter grades and prepare for my next class
.
Me: Will your class be doing anything interesting later on in the school year?
Mr. Hall: I'm not sure, but the bottle rocket in the next 2 weeks.

So, make sure you get know Mr. Hall at RCMS because he is really cool and awsome.
Return To Lion Times