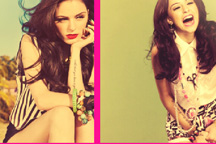 Hi there RCMS students. Have you heard of Cher Lloyd yet? She was on X-Factor in Sep 4, 2010 she was sixteen years old when she first auditioned on the X-Factor. Cher Lloyd was born on Wednesday 28th July 1993, and she is from Malvern, Worcestershire, England. Cher Lloyd went to Dyson High School she studied performing arts. She also has three siblings there names are Josh, Sophie, and Rosie and her parents names are Darren and Dina. Cher Lloyd once won the title of "Best solo female artist" in 2008 at the Pop Idol's competition in Worcestershire. Cher name means Dear in French. She is now an English recording artist, She became famous when she finished the forth series of The X-Factor, Then shortly Lloyd was signed by Simon Cowell to Sony Music subsidiary Syco Music. She has two album called "Sticks + Stones" and "With Ur Love". Her most popular song is "Want U Back".
In February 2012, Cher Lloyd spoke on the radio about cyber-bullying and how she fears for her safety after becoming a victim of online bully. She said "I'm public property and theres nothing I can do. I have got to deal with it. The message that I have got for people is: I have always tried to act the hard person and that was just for me. Its about now that I let people realize that I am a real person and if I can do it, with all these people that want a piece of me, than other victims can speak out as well. There have been many times when I have cried myself to sleep. I am very scared because I like to think people think I'm strong, because if they don't, then they might not think I can do it."
cyber-bullying is not a good thing to do so people who cyber-bully should stop.
Cher Lloyd is inspirational to all of her fans and maybe she can be an inspiration to you to. My opinion she is a very good singer if you don't know who she is you should listen to one of her song, Like 'Want U Back', 'With Ur Love', or 'Beautiful People' There are lots more songs she has written. She is one of my favorite artist I like most of her songs. Well I hope you all liked reading about Cher Lloyd, Hope you start listing to her music Bye RCMS students ! c:
Back to Lion Times