P.E. Activites :)
By: Romario
Do you think that P.E. is important? Do you think that it's helpful? Or do you think that teachers are crazy and just want you to exercise with out any meaning in doing physical activity? Well, P.E. is based on sports which is an activity that uses thinking, skill and physical prowess so that means that physical education is actually good. So if you are a type of person that slacks in physical activities or doesn't exercise I have some advice for you and my advice is that you should think about what you could get from exercise like staying healthy, preventing obesity, a competitive nature and also, it helps you stay strong. There are also many things you could obtain like prevent sickness in the lungs and spirit , also you get better memory, set personal goals, helps get self-confidence, it helps to feel alive, have fun, and also be a good sport. Just getting up one our a day each day is alright and when you are in school, the time they give you for your excersises and for your P.E. period is a perfect amount of time. Another thing that physical education is good for is getting to socialize with people. So, for your safety and for fun, just do some P.E.! It's for your good so please just exercise properly and you will see how much fun physical education is and you will enjoy your time.

Question: Do you enjoy P.E. and why?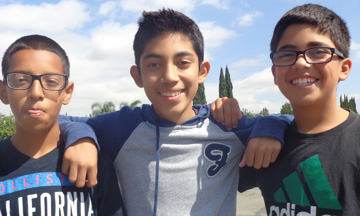 Andrew(left side) said Abel(middle) said that he has always liked Daniel(right side) said
that he enjoys P.E. P.E. and tries to make the mile under six that he likes P.E and activities
because he could be out minutes like soccer, basketball,
and have some fun. volleyball, and specially
football.