Carly Rae Jepsen
By Analia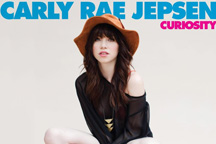 Hey there RCMS lions ! (: Have you heard of Carly Rae Jepsen ? If you haven't keep reading this article. Carly Rae Jepsen is a twenty-six year old she is from Mission, British Columbia. She was born on November 21, 1985, Carly Rae Jepsen has two sibling named Katie and Colin and her parents names are Larry and Alexandra. She is a female artist she is a singer-songwriter. She was placed third in the fifth season of Canadian Idol which garnered her a spot on the top three Canadian Idol tour, and in 2011 she released her hit song "Call Me Maybe" she was the second on the digital songs chart, first one was Justin Bieber with "Baby". She was later signed by Justin Bieber. Then Justin Bieber tweeted about her song "Call Me Maybe" and from there everyone started listing to her song !
Carly Rae Jepsen went to Heritage Park Secondary School in Mission, British Colombia and she later went on to Canadian Collage of Performing Arts in Victoria, British Colombia before auditioning for Canadian Idol. After completing the Canadian Idol tour, She went back to British Colombia to focus on writing. Her demos were attracting attention and she eventually signed a management deal with Simkin Artist Management and Dexter Entertainment. In August 2008, Carly Rae Jepsen's MySpace page announced that the album's title would be "Tug of War" and it was released on September 30, 2008. The page also mentioned that two more songs were included on the album "Tug of War" and "Sweet Talker". The former was released as a single on iTunes on September 16, 2008 and has been receiving radio airplay on various stations across Canada. Carly's second album "Curiosity" was released on February 14, 2012. It was produced by Ryan Stewart and Kevin James Maher production the track "Dear Julien". On the same day as the release, Justin Bieber made the announcement on the MuchMusic program New Music Live that Carly has been signed to School Boy Records, the label run by Justin Bieber's manager Scooter Braun. Then lead single, "Call Me Maybe" was released on September 21, 2011 and was produced by Josh
Ramsay of Marianas Trench and co-written by Carly Rae Jepsen, Ramsay and Tavish Crowe. "Call Me Maybe" is the first song by a Canadian artist to reach the top of the digital chart. Well thats
it lions hope you enjoyed this article on Carly Rae Jepsen and hope you listen to her music more and get inspired by it.
BYE LIONS ! c;