Hello 8th graders of RCMS! & everyone else. I hope everyone had a good year. I'd like to say state testing is over. Everyone knows the end of the year is the most fun, especially for the 8th graders. We get our own dance, a field trip to Knott's Berry Farm, & most importantly... we get to promote! For all the people who are on the L.O.P. List, you don't get to attend the dance or the field trip. Our promotion is the last day of school.
I asked people what was their favorite memory was & this is what they said..
Dimitrius said, "I liked it when they played Started From The Bottom at lunch."
Kiley said, "Hanging out with Dalia."
Shawn said, "Lunch."
Rafael said, "Playing basketball."
Tabitha said, "Mr. Hall's class with Myjoi."
As this school year comes to an end, as you say bye to all your friends, we have something to look forward to.. SUMMER! & high school, kind of. The people you hung out with in elementary school & middle school may not be with you throughout your high school years, but it's all gonna work out. The next 4 years might be difficult but keep your head up high & remember if you need anyone to call, don't call me.. call Alicia.Two years ago, many of us didn't think that we would walk during promotion, but here we are.. going our separate ways. I wish you all the best & good luck. Peace out girl scouts.

REMEMBER, DON'T DO STUPID STUFF! Now.. bye.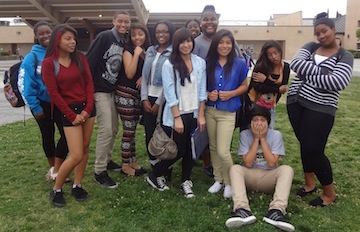 Return To Lion Times