What is Honor Roll? Honor Roll is an awarding ceremony to honor the people who have attained a 3.0 G.P.A or higher. It's where the teachers, your parents, your friends, and the principal celebrate your achievements. Students who receive honor roll will either get: Principal's Honor Roll (4.0 or higher), Lion's Honor Roll (3.5 to 3.9), or Honor Roll (3.0 to 3.4).
Our school holds two assemblies, one for 1st trimester and one for 2nd trimester.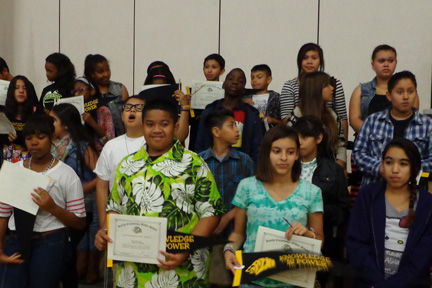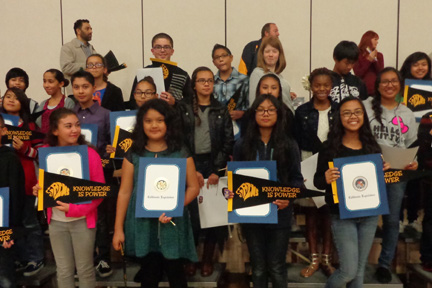 If you've never been to an Honor Roll assembly before, you must wonder what it's like. You walk into the gymnasium with your parents, (or other guardians). students sit in folding chairs at the front of the gym, while parents sit in the bleachers. The principal or one of our assistant principals welcomes all the people into the gym. While the teachers prepare the awards and prizes, kids look for their friends in the crowd. The principal asks for your attention, then shortly after starts calling names. Once your name is called, you walk up to the stage the principal and assistant principals will congratulate you on your achievements and give you your certificate. You walk down the stage and the teachers give you your prizes. You are then leaded up to the steps where the other students stand. You wait for the other students names to be called, then you get a final round of applause and are then taken a picture for the yearbook.